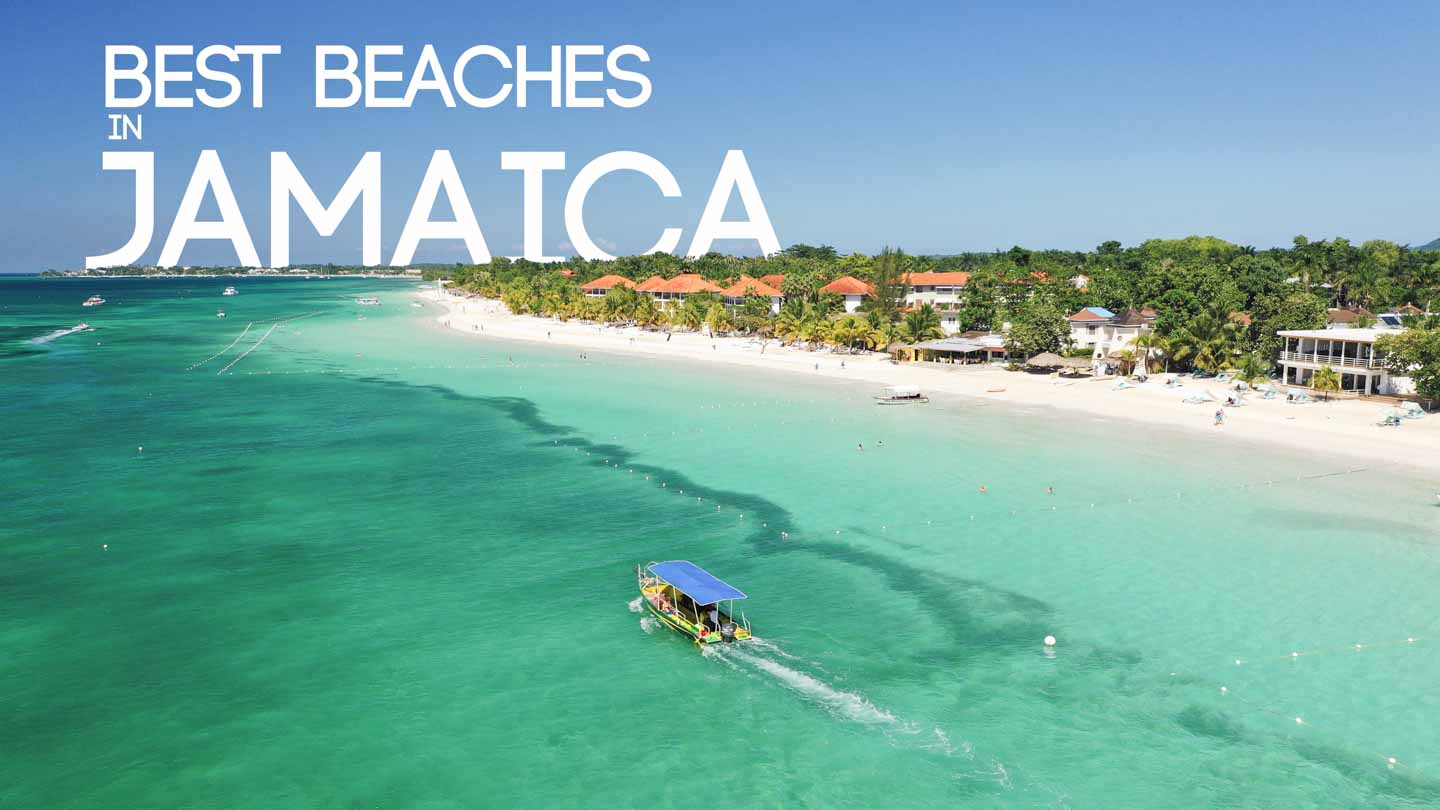 Jamaica is known for many things, like jerk chicken, Bob Marley, rum, and reggae music. You can find a lot of beautiful beaches on this beautiful island.
The location of Jamaica near the equator provides it that much-sought-after "always summer" feel, & when you add a tropical island to the mix, you know the beaches will be great.
Only 2.8 million people live there, so there are a lot of beautiful beaches to explore the natural beauty for everyone.
Top 10 Beaches in Jamaica
Check our list of Jamaica's top beaches:
1. The Cornwall Beach
Cornwall Beach is a quiet piece of paradise for people who booked rooms at the Royal Decameron. It's a great place to spend a day relaxing. This area is close to Montego Bay, and it is relatively close to the Hip Strip, where you can eat, shop, or just look around the city.
If you do decide to stay on the beach, you can easily access the bars with fruity cocktails or beach shacks with delicious local Jamaican food. Since the water is clear and the sand is white and soft, you may not want to leave your beach chair for the whole day.
2. Mammee Bay
If you want a little bit of luxury, Mammee Bay is the best place to go. This Mammee Bay is about a 15-minute drive from Ocho Rios and one of the best beaches in Jamaica. It is half private and half public. This beach has the best views of the coast, which makes sunset a beautiful time of day.
Local food that is both fresh and tasty is served at the Bamboo Blu not far away from this beach. After dinner, there are bonfires on the beach, where there is always music & dancing.
It's not easy to avoid fresh fruit cocktails, grilled lobster, and spending the day on a sun lounger. If you want to try something new, windsurfers and people who do other water sports like to go to this part of the island.
3. Beach at Boston Bay
Boston Bay is a hidden treasure in the middle of the country. It is on the eastern side of the northern side of the island.
Boston Bay got its name from the fact that bananas were traded between Boston, Massachusetts, and the bay that would one day be given the name of the well-known city in the state of New England.
As a result, the area became settled and experienced a boom in business. It led to the growth of a strong community.
Now, the Boston Bay Beach is among the few places in Jamaica where surfers go because the waves and boards work so well there.It is also known for its pork and jerk chicken, which is sold at food stands all along the beach.
Many people think that the jerk flavoring that Jamaica is known for came from this area. This is a great place to enjoy with the waves and then have some local food from the area.
4. The Frenchman's Cove
Frenchman's Cove is special because it is where the river meets the ocean. This makes it a calm and relaxing place to swim, both in the small bay and further out into the ocean.
This beautiful, small bay is full of small, colorful fish, which makes it a fun place to swim. There is a fee to get in, but this beach is great for families. In case you are on a family trip with your kids, this is a great place to stop for the day.
If you don't know where you have to spend your night, there is a resort nearby called Frenchman's Cove Resort. There are places to eat nearby, and you can get tasty beach-style food like burgers, jerk chicken, and fresh fish that has been steamed.
Nearby, there are also clean and cheap places to stay. Keep reading the article to know about more beaches in Jamaica.
5. Beach Winnifred
This is a great & beautiful public beach that is great for families and has lots to do & explore. After passing the area of white sand, one will encounter sea urchins, but if you're careful and can move on from this line of defense, you will soon be in a tropical paradise full of coral reefs having beautiful bright fish and plants.
This is a great place to go snorkeling for an afternoon. The sand is lined with beach shacks and sells fresh food and drinks, like red snapper.
So if you want to stay until the evening, you can be sure that your hunger needs will be taken care of. If you want to buy souvenirs, there are often people selling their goods and hand-made items.
6. Seven Mile Beach
This beautiful stretch of white & soft sand is said to have been used by pirates in the past, but it is now a favorite spot for both tourists and locals.
This stunning section of the tropical coastline is in Negril. It is close to restaurants and hotels that fit a wide range of budgets, tastes, and styles.
Thanks to one of the many reefs in the Caribbean, it's the perfect place to watch a beautiful sunset and swim in calm water, whether you're there for the day or just taking a short trip from your hotel.
7. The Doctor's Cave Beach
The beach of Doctor's Cave has been known for a long time as one of the best beaches in Jamaica. It is known for its calm, protected waters, turquoise water, and white sand.
The beach is surrounded by tropical trees and has a restaurant, bar, changing rooms, showers, and club rooms for people who belong to the beach club.
You can rent chairs, snorkeling gear to suit your needs, and umbrellas, whether you want to relax or do something more exciting. As part of Montego Bay Marine Park, the beach has protected coral reefs, so snorkeling here is sure to be a good time.
8. Lime Cay
Lime Cay, is a small yet beautiful island near Kingston that can be reached by boat in 15 minutes from Port Royal. Because it sometimes disappears under the water at high tide, it is not a place where people can live.
However, it is a popular place for locals to go on the weekends. The beaches on the island are free to use for anyone who can get there. You might be able to get a local fisherman to take you over for the whole day for a small fee.
Mostly there is a little crowd at Lime Cay. It is known for its great snorkeling, so make sure to bring your gear. If you come here on weekdays, you don't need to bring clothes because you won't see many other people.
9. The Bamboo Beach
Bamboo Beach is now again renamed to its original name Reggae Beach. Still, it retains all of the characteristics that have made it one of the island's best-kept secrets.
One of the few places in Jamaica where you can still feel like you're in the country's heart and soul without being smothered by visitors.
Local restaurants, bars, and beach shacks are all close by. Fresh fish and lobster are the main food draw at many of these places.
There is also a lot of music and dancing. During the day musicians and dancers add to the sunny atmosphere, and live bands & DJs play reggae music to keep the evenings calm (complete with a bonfire).
10. Bloody Bay
Bloody Bay is one of the beaches along this stretch of coast. It is in the beach resort town of Negril. When you put these two bays together with Long Bay, you get Seven Mile Beach.
In Bloody Bay, you'll find the larger, all-inclusive resorts, and in Long Bay, to the south, you'll find the smaller, family-run hotels that offer a range of styles to fit different budgets.
Snorkeling and diving are popular water sports on this beach. Many of the resorts have direct beach access so that people can do these things.
South of the beach, West End Road has a few small restaurants and places to buy things. But this area hasn't been built up as much as other popular spots on the island. It adds to its laid-back island charm.
This is Kyle Thomas, a professional writer, and a news editor. I started my career as a blogger who writes on various topics and then I decided that I should join a NEWS agency where I can work as a NEWS reporter. So, I joined a renowned agency in the town as an internet and after getting 2 years of experience, now I am working as a senior NEWS reporter for The Daily NEWS Times.