What is Dropshipping Business?
Dropshipping business has become a very popular way to make money online because of how easy it is. In this business model, the seller is not required to have a lot of capital or manufacturing capabilities to be able to start a dropshipping business. All they are required to do is get customers to their online dropshipping store to place orders and then send the orders to a dropshipping supplier. From this, the seller makes a certain percentage of commission for every customer who places an order, easy right?
To put it in simpler terms, dropshipping is a method of selling items where the seller has no stock or inventory of the product at hand and doesn't directly own the product. Instead, seller sources for dropshipping companies to fulfill the retail order when a customer requests for the product by placing the order on the seller's dropshipping website.
The main difference between a dropshipping business and an ordinary retail store is that the seller doesn't own the products which he or she sells or doesn't have them in stock to be sent to the customer when an order is placed.
Instead, they reach out to other dropshipping suppliers like AliExpress, Amazon, or eBay to fulfill the orders placed by the customers as the orders come in. Even the seller has nothing to do with the packaging material, and with the delivery of the product to the buyer's address.
How Does Dropshipping Work?
Now you know what is dropshipping business, it's time to know how does it work? There are two main ways to get started with a dropshipping business.
The first way is to reach out to suppliers individually anywhere in the world and ask them to become your dropshipping supplier for your eCommerce store depending on the niche or products you would like to sell.
The second way is to use dropshipping applications such as the Shopify dropshipping application Oberlo to fulfill orders placed by customers on your Shopify eCommerce store.
For the second option, AliExpress and Amazon, are the best marketplaces available for business owners to find all kinds of products to sell on dropshipping eCommerce stores.
Items from multinational companies such as Aliexpress and Amazon that you would like to add to your eCommerce store can be done by the simple click of a button by using different plugins developed especially for the dropshipping business.
When the customer places an order on your website, the dropshipping supplier handles the entire process from packing to shipping. All you have to do is to fill in the details of the customer and click the "order" button and the product is shipped to the customer by the original supplier.
Pros and Cons of Dropshipping
Dropshipping is a great business to start for individuals who can't have stock and don't have the ability to manage the inventory and shipping to the customers. It has very little downside and allows you to have access to monitor and experiment with different products in the market.
Dropshipping Pros
The following reasons make it worth considering the regular retail businesses.
Low-Cost Startup Business: Many people wanted to know how much does it cost to start a dropshipping business? Well, it is a low-cost startup business that can be started by just purchasing a domain name and a hosting account. With that, you need to spend some money on the development of your dropshipping store and data entry. If you have a good knowledge of WordPress or Shopify, you can save this cost of development as well. Anyhow, very little money can be invested in creating your online eCommerce store to get it ready for a dropshipping business.
Easy To Start: With dropshipping, you don't need to worry about all the manufacturing, stock maintaining, packaging, and shipping. These usually come first before an eCommerce business can be started. All this will be done by the supplier, you just need to get orders from your store and place those orders with the original supplier.
No Need to Buy Stock: Unlike the regular retail business where the product must be available in stock before a customer can place an order; here, you don't need to have the product in stock. When you get an order on your dropshipping store, you have to order the same product on the supplier's site and provide the address of the buyer.
Lesser Risk Involved: In the traditional eCommerce business, a lot of risks are involved for the stock that is a dead item and not doing well. But on a dropshipping business model, there is no such risk involved as you don't need to purchase a single item before you have an order in hand.
Hassle-Free Business: Dropshipping business is very easy to start as you do not require to pay for any extra costs such as renting a warehouse for your products, manufacturing the products, packaging or shipping the product, handling product returns, or even tracking product inventory. You don't need to worry about all these because these processes will be handled by the Dropshipping supplier you have chosen. In fact you just need to promote your store and wait for the orders.
You can run it from anywhere: Unlike other regular retail stores that require you to have a registered address from where you run your business, dropshipping allows you the freedom of running your business from anywhere in the world. You only need to keep in touch with the suppliers and customers for your business to run smoothly.

So many product options to choose from: Because Dropshipping doesn't require you to pre-purchase a product before putting it up for sale on your eCommerce website, you have the freedom of choosing from a great variety of products and showing on your website for sale. You can also watch the current trends and display products according to what is trending at the moment and show them to your customers.
Best for testing the product market: If you are looking to go into the retail business but are not sure of what product to invest in and want to avoid manufacturing products before finding out about its market value and requirement. Dropshipping allows you to test different products on your store before deciding if to commit to them fully.
It's easier to expand: In the regular retail business, expanding the business means getting more workers, increasing the size of the warehouse and workforce involved in manufacturing and production, more product and equipment, and more people to attend to customers and handle their complaints, etc. With Dropshipping you only need to worry about all these things, all you need to do is add more products to your website and advertise more to expand your business.
Why Dropshipping is Bad?
While dropshipping is a very nice business model to consider, like many other business models it has its own downsides as well, let's take a look at some of those downsides.
Product cost prices will be lower: Because of how easy it is to create a dropshipping business, other dropshippers like you will tend to reduce the prices of products to attract customers to their own dropshipping website, making profit lesser and lesser over time.
Inventory management is harder: When you have products in your store with different suppliers, having to sync the products from different dropshipping suppliers with your store might be harder than you think. (Though the solution is available.) 
Suppliers Mistakes Affects Your Business: Even though your store might have great quality, any mistakes from your dropshipping supplier will end up with a bad review on your website, so make sure to pay attention to customer service when choosing a dropshipping supplier.
No Control over Quality of the Product: As a dropshipper, you have no control over the quality of products sent to your customers; make sure to choose dropshipping suppliers with good product reviews.
How to Start Dropshipping Business
To start a dropshipping business, you need to follow a few things and should take care of the things mentioned below:
How to Select the Right Niche and Products
There are two ways to choose a dropshipping niche, the first way to choose a niche is to go for something you are passionate about and sell items in that niche. You can decide what you are passionate about by asking yourself the following questions.
What accounts are you following on social media?
What kind of products do you like to see on these social media accounts?
And what type of eCommerce websites do you buy things you like from the most?
Ask your friends what they think you are most obsessed with.
The second way is to choose a niche based on how well it does in the marketplace, to do that here are some questions you need to research on to make a decision.
What online retail stores are popular right now and what products do they sell?
Which of their products are the most popular?
Find hich products have the highest profit?
Which niche has the biggest number of buyers?
Start With Niche or General Dropshipping?
Each dropshipping store has different products that sell the most on its websites, when choosing a dropshipping store, you need to pay attention to which products sell the most on which websites are related to your niche and sell products from those websites.
For example, products on handbags, home décor, hair care, electronics and fashion,  beauty and makeup do well on eCommerce, using websites like Amazon and Aliexpress, so when choosing a niche you can focus on a niche whose products do well across multiple websites, say fashion?
As a new dropshipper, you don't know which products will be trending and are in demand, so it is better to start with a general store that has products in different categories. If you go for the micro-niche at the start, then you will be at risk. If your selected micro-niche doesn't perform, you will get nothing from that store.
Find Best Dropshipping Niche
When you have experience in the dropshipping business, you can start your niche dropshipping business to focus a single category.
When it comes to the idea of dropshipping as a business model, it is important to note that because of how easy it is to start a dropshipping business, the market has become oversaturated as more dropshipping websites are created every single day adding to the already existing ones.
Choosing the best niche dropshipping is very essential if you want to get noticed and viewed as unique from other dropshipping websites. Check these top 10 profitable niches for your dropshipping store in 2021.
Choosing a micro-niche means breaking down a niche even further and selecting only one aspect of that niche, for example, instead of choosing the niche "pets", we specify that we will make our dropshipping store not only about pets but about "dogs" as a category under pets and to be even more specific, we can decide to focus on "German shepherd" breed and sell products peculiar to only this breed.
Find a Profitable Niche
When selecting a niche, it's very important to pay attention to products that have higher profits, because the marketing and advertisement investments required to sell a product are the same regardless of what kind of product you are selling.
You need to focus on products that will yield you more profit in the long run, than products that require the same advertisement investment but promise little profit.
Look for High Demand but Low competition Product
In the dropshipping business, it's very important to remember to do your product research. You will be competing against other bigger and more established retail stores for customers, you need to pay attention to what products are trending or what products or in more demand.
A product with high demand means that it has high competition as well. But you should try your best to find some trending products that has high demand but have low competition.
Don't be tempted to choose a niche whose products have low competition, and are low demand, else you may end up with an empty store if you settle for those.
Supplier With Low Shipping Cost
In the dropshipping business model, it's easy to get carried away with the fact that your suppliers handle all the shipping processes.
When searching for a dropshipping supplier, make sure to pay attention to the shipping costs of the products, if the shipping costs are too high, this can send your customers running for the hills, regardless of the product price or quality.
So try to find a supplier who can ship the product with the lowest possible shipping cost. But don't compromise on the rating of that supplier.
Choose Product People are Searching For
Before you even think of choosing the best dropshipping niche, make sure to do your research. Use different keyword research tools such as Ahrefs or Google keyword planner to determine which products are getting searched for the most in your niche.
Use this knowledge when choosing products for your store, if possible search for suppliers with products that people are searching for that provides more quality and satisfaction to your customers than other products in that category.
Choose Products That are Not Readily Available
The best way to be successful in the dropshipping business is to create a "need" for people to buy and use that particular product that you sell.
If the product you sell in your store can be found in their local supermarket, chances are there won't be any need for them to visit your eCommerce store.
Choose products that are high in demand but are not readily available to them locally.
Dropshipping via. AliExpress or Amazon?
When it comes to dropshipping stores, Aliexpress and Amazon are often considered first. The reason being that these two multi-national companies both have a lot of influence and dominance in the world of eCommerce.
But which one is better? Here are a few comparisons between them to help you decide.
Each of these websites has its own unique qualities that make them each different and unique in comparison to each other.
When it comes to the eCommerce store dominating worldwide then that has to be Amazon. This billion-dollar company accounted for 53% of all online sales worldwide based on research conducted in 2016.
It has more than 310 million customers worldwide, and ships to more than 200 countries with offices in North America, Asia, Europe, and South America and dominates the US market by 80%.
Aliexpress on the other hand has a smaller global presence compared to Amazon more than 440 million customers worldwide and ships to major countries like Asia and Europe and have a 50% dominance in the Chinese market.
Both platforms have millions of products and have tens of thousands of trusted suppliers from different parts of the world. You can trust on both of these great online stores that ship their products to almost every country in the world.
If you have more customers on your dropshipping store from Asian countries like India, Pakistan, Bangladesh, Srilanka, and Afghanistan, then AliExpress is the better choice.
But, if you have a plan to promote your store to European countries then Amazon would be the first choice for anyone.
Best eCommerce Platform for Dropshipping
When it comes to dropshipping, one great decision you will need to make is to choose the best eCommerce platform for dropshipping. The current two most popular platforms are Shopify and WooCommerce.
Each of these platforms have their own unique qualities that make them different in comparison to each other so let's take a look at a couple of those qualities here;
WordPress WooCommerce vs. Shopify
1. Pricing: When it comes to the prices of each of these platforms, Woocommerce is definitely cheaper, it is an eCommerce plugin of the most popular content management system platform in the world – yes WordPress. Although the platform is free, you will need to pay for your hosting and domain name for your dropshipping website. This amount can vary from $5 to $10 dollars a month.
When it comes to Shopify, its drag and drop feature system makes it very easy to use but a bit more expensive than WordPress. The monthly cost for a Shopify eCommerce store is $29 per month for the beginner's plan.
2. Set-Up Time: When it comes to setting up a time for your eCommerce store, the Shopify drag and drop method of website design makes everything very fast and easy to do. It is so much easy that setting up a full eCommerce store may only take anywhere from 40 minutes to one hour to get everything ready.
However when it comes to Woocommerce, it might take about 15 to 20 minutes to set up an eCommerce store if you use a managed hosting package, but if you decide to do set it up all on your own, it will take a longer time to set up.
To create multiple eCommerce stores is very easy with woo commerce, all you need to do is to install a duplicator plugin on WordPress to clone your already existing website and then manipulate it as you wish, however for Shopify, you will need to create everything from scratch all over again for each eCommerce store.
3. Website Theme: One of the most important aspects of creating an eCommerce website is paying attention to its user interface. Nobody wants to visit a website that has multiple loading or navigation issues or one that just doesn't look good.
Shopify allows you to choose up to 10 themes for your eCommerce websites in the beginner plan and that's it. For more you would have to upgrade your plan to a more expensive one. WooCommerce allows you to choose from thousands of free themes to find the one that fits your store requirements.
4. Features: To help extend features of your eCommerce store, you will need plugins, Shopify has its own applications that give you access to these plugins for different prices depending on the plugin you want.
Woocommerce has an extensive directory of more than 75,000 plugins to choose from and most of these plugins are very easy and free to use.
5. Customer Care & Support: Shopify has a great customer support system that usually replies to their customers within a few minutes after opening a ticket or reporting an issue, they also have a team of highly trained professionals readily available to help you solve your problems.
Unlike Shopify, Woocommerce has no official support because it is a plugin for an open-source platform (WordPress). However, there are so many Woocommerce support blogs and websites that you can find online if you ever need help with a problem.
Dropshipping Plugins
In the world of dropshipping, price syncing, and stock availability syncing is one of the two most important things to consider when managing a store. You always need to make sure that the products you are selling are always in sync with the supplying website.
You don't want your store to still show a product as available to the customer when the supplier doesn't have it. To solve this problem we will be looking at the available plugins for Aliexpress and Amazon web stores on both Shopify and WooCommerce platforms.
Dropshipping APP (Plugin) for Shopify
Shopify uses the Oberlo Chrome extension (OCE) to import and sync products from Aliexpress to your Shopify store.  With the monthly price of 29$ for Shopify, you need to pay an extra price for the Oberlo Chrome extension as well if you want to grow your store.
The starter package of Oberlo is free, but it has limited features. You can add 500 total products that also include the variants in this package. For the basic package, that supports 10,000 products, you have to pay an extra amount to 29$ USD.
While Amazon uses plugins like ByteStand and Zonify to import and sync items from Amazon to your Shopify eCommerce store.
WooCommerce Dropshipping Plugins
Unlike Shopify, you have a lot of options on WooCommerce to use a Dropshipping plugin that can sync all your products, its prices, and availability with the supplier's store.
1. AliDropship
Alidropship is a fully customizable WooCommerce dropshipping platform that helps find and import products directly from Aliexpress into your WooCommerce store with just one click. It is also integrated with filters to help you find the best products in your niche on Aliexpress and also automatically updates Aliexpress products in your web store to match the latest information on Aliexpress.
You have to buy this plugin so that you can import the products from AliExpress with just one click. The best thing about its pricing is that you don't have to pay a monthly fee. It is just a one-time payment of USD $89 with all the features.
Click here to buy the AliDropship plugin.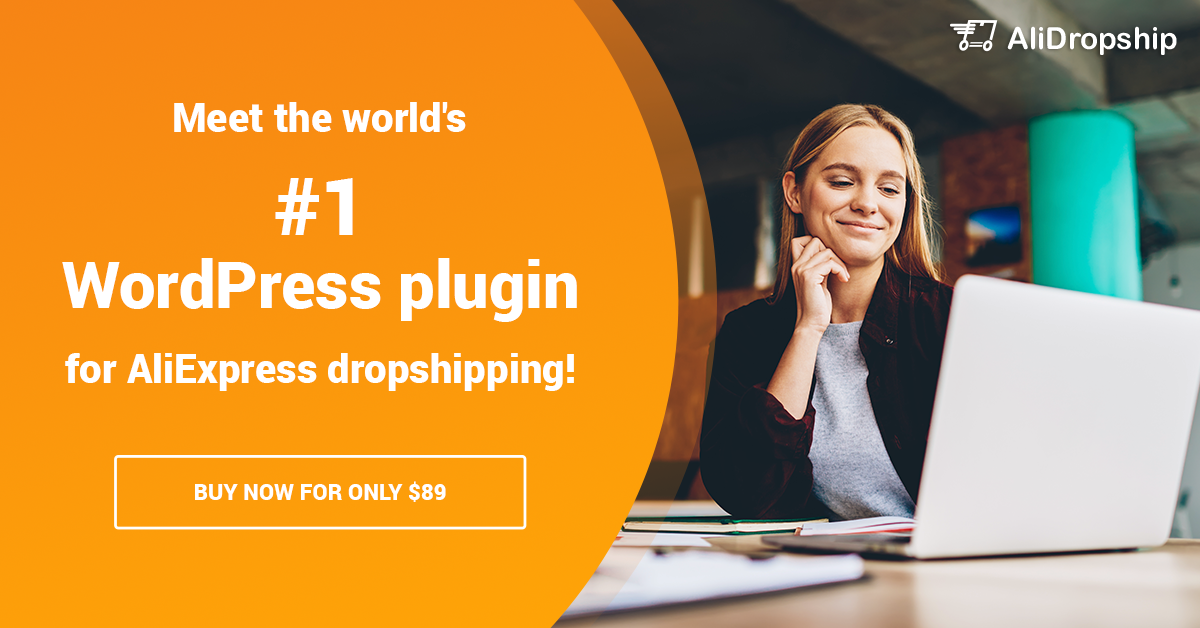 2. WooDropship
WooDropship is another really great plugin for WooCommerce dropshipping. Asides from importing and syncing your products with Aliexpress, this plugin also allows you the freedom of fully customizing the details of your imported products such as the title and description, etc to match the look and feel of your website.
You can have a free trial of 7 days for WooDropship. Then you either have to purchase it for USD 20$ per month, or you need to pay a lifetime fee of USD 97$ with no limitations.
3. WP Amazon Shop
This plugin allows you to conduct a product search on Amazon directly from your eCommerce store, add products to your cart, and also processes orders by redirecting it straight to Amazon without requesting any AWS access key.
You can buy this plugin for one website at a 1-time cost of $59.
HOW TO PROMOTE YOUR DROPSHIPPING STORE
1. Search Engine Optimization
Before you even start building your eCommerce store and implementing all the strategies you have learned so far, you need to pay attention to one major detail – promoting your store.
All this work will all go to waste if there is no one visiting your website. Optimizing your website for SEO simply means using Google tactics to make sure that your content is shown to customers when they search for products available in your store.
Things like using your product keywords repeatedly over and over in your product description, writing a compelling Meta description, or even choosing the proper words in your product title, to make sure that they rank on Google are all part of Google SEO tricks you need to pay attention to and plan for ahead of time.
You should also get backlinks from good websites for the keywords related to your website. You must know how to get traffic for your website through search engine optimization.
2. Social Media
When it comes to growing your dropshipping business, word of mouth just isn't enough; you need to follow up with an online social media marketing presence.
Instagram, Facebook, and Pinterest have become great hot decision platforms for people looking to make new purchases, create good content on these platforms to grow your audience. Also, use marketing campaign strategies such as giveaways and polls to grab the attention of your target customers to your business.
Marketing tools like the social rabbit tools are designed to help you create a credible online presence and market your store to people ready to purchase from you. You can also get a couple of influencers to do a collaborate with you and point them in the right direction of your store.
3. YouTube
YouTube is the second largest social media platform in the world, millions of people watch millions of videos daily on this platform and that's why It's one of the best places to focus on for the advertisement of your products.
Due to the invention of ad blockers, it has become easy for people to skip through ads on YouTube now, making it harder to get advertisements through to customers on the platform, however, there are so many other ways you can advertise on YouTube;
Post consistently on YouTube
Create Engaging Content
Work on Your YouTube SEO
Get Review channels on YouTube to review products on your website or your website in general.
Make sure your branding is consistent.
I am Sahar Rashid, a technology loving girl. I love to write about mobiles, computers and other technology stuff on my website. I am so excited about the latest technology updates in the tech industry so I also report the latest news and leaks about mobiles and especially the iPhone. I joined The Daily News Times 3 years ago as a Technology news reporter.